Candace Helaine Cameron Bure (born April 6, 1976) is the actress who played the role of D.J. Tanner on Full House.
Early life
Candace Cameron was born in Panorama City, California, to Robert Cameron and Barbara Bausmith. She attended Nevada Ave. Elementary School in West Hills, California.
She has three siblings, including older brother Kirk Cameron. She decided to follow in his footsteps and pursue acting. She started in the entertainment business by appearing in a number of television commercials.
Career
Her acting debut was in a commercial for Mutual of Omaha insurance, but the commercial never aired. In 1983, she appeared in a commercial for Cascade detergent.[1] She was also featured in commercials for Chef Boyardee,[2] Cabbage Patch Kids,[3], Kentucky Fried Chicken[4], and the ALF doll.[5] Soon after, she guest starred in roles on shows like St. Elsewhere, Growing Pains (starring her brother), Punky Brewster, and Who's the Boss?.
When she got the chance to audition for and got the role of D.J. Tanner on Full House, she impressed the studio executives and producers so much that they delayed taping the pilot episode to allow her to complete work on her other obligations.
In 1987, she had a role as the youngest sister of Eric Stoltz's character in the teen comedy Some Kind of Wonderful. She appeared in the film Punchline (1988) with Tom Hanks and Sally Field.
In 1990, she made a guest appearance on an episode of The Mickey Mouse Club.[6] In 1992, she made a cameo apppearance in the Mary-Kate & Ashley Olsen TV movie To Grandmother's House We Go, playing an audience member of the Win-O-Lotto game show. In 1993, she guest-starred in a first-season episode of Bill Nye The Science Guy, explaining chemical reactions, such as fire giving off heat.[7]
During and after Full House, Cameron starred in several TV movies, including as a teenage victim of an alien abduction in Visitors of the Night (1995), an abused teenager in No One Would Tell (1996, co-starring alongside fellow child star Fred Savage, both of whom first met when he was on The Wonder Years[8]), followed by She Cried No (1996) and Night Scream (1997).
Cameron hosted the Nickelodeon Kids' Choice Awards in 1990 with Dave Coulier and David Faustino,[9] and in 1994 with Joey Lawrence and Marc Weiner, becoming the first person to host the awards show more than once.
Post-Full House
Following the series, Cameron guest-starred on such hit shows as Cybill and Boy Meets World. Following the birth of her children, she took a self-imposed hiatus from acting to devote all of her time to her family and children. In the 2000s, she appeared in an interview on the retrospective TV specials I Love the '80s and I Love the '80s Strikes Back. In 2006, Cameron guest-starred on the sitcom That's So Raven (starring Raven Symone). The following year, she co-starred with Randy Travis in The Wager, and starred with Tom Arnold in the TV movie Moonlight and Mistletoe for Hallmark Channel in 2008.
In 2009, Cameron returned to television series work, with being cast for Make It or Break It, a teenage drama on ABC Family, where she played Summer Van Horn.
In 2014, she competed on season 18 of Dancing with the Stars, making it to the finals and finishing in 3rd place.
In 2015, production began on the 2016 Netflix spin-off series Fuller House. The same year, she was a guest on Celebrity Name Game.[10][11] She also became a regular co-host on the daytime talk show The View, starting on September 8. She left the show in December 2016.[12][13]
In 2017, she returned to doing commercials by starring in an ad for StarKist Tuna Creations.[14] On September 18, she made a return to The View to catch up on her life and career, including season three of Fuller House,[15] and even brought her castmates (in another segment) Saget, Sweetin, Coulier, and Barber.[16]
In April 2018, she made another guest appearance on The View; this time to talk about her new book and share about one of her hardest days during her time as a co-host – among other things.[17]
In July 2018, she made guest appearances in the following shows: CBS's The Talk (panelist), Hallmark Channel's Home and Family, and ABC's To Tell the Truth (panelist).
In April 2019, she made a guest appearance on The Today Show, alongside her brother, Kirk, to reminisce about when they made guest appearances on each other's show (she played Jenny Foster on 2 episodes of his show), using clips from each series, and each showing photos. She also explained that if it was not for him, she would not have been cast on Full House.[18]
Personal life
During Full House, Candace had a teacher who asked for her autograph in front of the whole class. This was just one of many instances where Candace ran into trouble with jealous schoolmates. According to Candace, they were "really cruel". They used to do things like push her and pull her hair.
Candace attended Chatsworth High School in Chatsworth, California. She spoke at her graduation in 1988 and received a roaring ovation from the families there.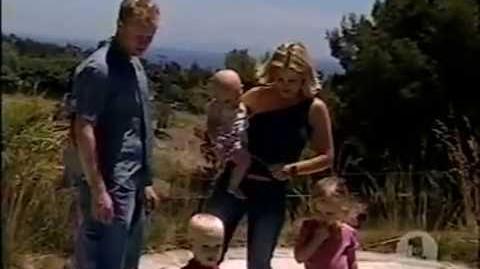 On June 22, 1996, Cameron married NHL hockey player Valeri Bure (Valerij Vladimirovich Bure). They were introduced by Cameron's Full House co-star Dave Coulier. She and Bure have three children: Natasha, Lev, and Maksim. They spend the majority of their time in the Fort Lauderdale suburb of Plantation, Florida, where Valeri played for the nearby Florida Panthers. Her husband launched his own wine label, Bure Family Wines.
Candace has done charity work with the Starlight Foundation and the Make-A-Wish Foundation, serving as the "Kid's Club" President and International Youth Ambassador.
Religion
In 2006, as a reflection of her evangelical faith, she endorsed several online Christian homeschooling academies. She writes a monthly column for Christian Women Online and speaks at churches throughout the country. She is a spokesperson for National House of Hope, a Christian organization for teens, based out of Orlando, Florida.
Candace has stated that she will not accept further roles in film or television that would make her go against her Christian principles, and that she will not do scenes involving any kind of nudity.
Politics
As a conservative (particularly a Christian conservative) and a Republican,[19] she has voiced her views on such issues as same-sex marriage. In 2012, on Chick-fil-A Appreciation Day, she showed her support (along with other Christian conservatives) for the fast food chain and its CEO Dan Cathy's stance on traditional marriage, to counter a boycott of the restaurant launched by same-sex marriage activists.[20][21] After becoming a co-host on The View, she became involved in a debate with co-host (also a former child star) Raven Symone, about her support of a local bakery's decision not to bake a cake for a same-sex wedding as it violated their religious freedoms/beliefs.[22] She has, however, stated that she has no problem with LGBT storylines on Fuller House.[23][24]
Also on The View, the day after the San Bernadino massacre in 2015, she reiterated her support for the Second Amendment to the U.S. Constitution, and, while not explicitly mentioning any opinions or anything else on gun control, said that both parties need to come to solutions to prevent further shootings.[25] She has, however, supported guns on campus due to the numerous school shootings (with the Newtown shooting being mentioned by her co-hosts).[26][27] Not long after the shooting in Florida on Valentine's Day 2018, she took to Instagram to call out Kristen Bell on her post supporting not only diminishing gun sales but also prayer.[28] She also believed that churches should also no longer be gun-free zones after the Charleston, SC church shooting in 2015.[29]
Another hot-button issue she has been most vocal about is abortion. During her time on The View, she voiced herself as the pro-life panelist.[30][31]
In 2016, she became one of many celebs to participate in a campaign called "Peanuts Rock the Vote". In her video, she describes the various Peanuts characters (Lucy, Charlie Brown, Sally, Linus, Franklin, and Snoopy) as different types of candidates.[32]
At the time of the 2016 U.S. presidential election campaign season until Election Day, Bure was not sure who she would vote for. However, after Donald Trump had won the Republican nomination and chose Indiana Governor Mike Pence as his running mate, she said that she would have preferred someone more diverse, like Ben Carson (who Trump later chose to be HUD Secretary).[33] She also admitted that in the past, she was not sure about Hillary Clinton running for president (before she went on to win the Democratic nomination), but then remarked that her views about it were evolving.[34]
Also in 2016 on The View, she was involved in a debate on the controversy of protesting during the National Anthem and then-San Francisco 49ers quarterback Colin Kaepernick's reasons for starting it. She points out that while he has donated over $1 million to various causes, there are other ways he could have protested instead of kneeling during the anthem.[35]
Trivia
Nickname: Candy
The picture of her that she placed on the mantle in the season four opening was taken before the series began
She and her family were not religious until she was 12 years old
After her wedding, her husband sent Dave Coulier an autographed hockey stick that said: "Dear Dave, thank you for Candace"
Her daughter Natasha is good friends with Lori Loughlin's daughters, Isabella and Olivia
Her acting debut was a commercial for Mutual of Omaha Insurance, but it did not air
Her mother is author of a book titled A Full House of Growing Pains – the title being a play on both her acting children's popular series
Candace:
Is of Swiss descent
Was neighbors with Eight is Enough star, Adam Rich
Attended Nevada Ave Elementary School in West Hills, California and Chatsworth High School in Chatsworth, California
Once dated Jeremy Miller, who played Ben on Growing Pains, the younger brother of her brother's character Mike
Was the maid of honor at Jodie Sweetin's first wedding and her daughter, Natasha was the flower girl
Was named the Parade Grand Marshall for the 1991 Seafair Torchlight Parade in Seattle, Washington
Spent some time in Madrid, Spain learning Spanish while living with a family (in 1992)
Won a Kids' Choice Award for Favorite Television Actress in 1994 for her role on Full House
Can speak and understand some Russian
Auditioned for the role as Vicki on the TV series Small Wonder, but the part went to Tiffany Brisette
Remained good friends with Andrea Barber ever since Full House
Kept the original "Pillow Person" after Full House ended – until it was chewed up by her dog[36]
Gallery
See Candace Cameron Bure/Gallery
References
External links
Candace Cameron Bure on social media:
Community content is available under
CC-BY-SA
unless otherwise noted.