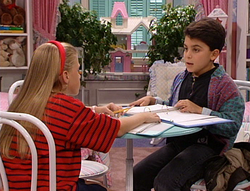 Charles is a one-time character, played by J.D. Daniels, in the season six episode "Silence is Not Golden".
Charles is Stephanie's an annoying classmate who teases her and then the teacher pairs them up for a project. Stephanie later learns that the reason Charles is kind of a bully is that since his mother died, his father has become abusive to him. Stephanie suggests to him that he should tell someone, but he believes that he gets hit because it's his own fault, and makes her promise not to tell anyone.
When he does not show up for class, the teacher says she was told that Charles "had an accident" and "fell down the stairs", when really his father was the reason for it. Stephanie even lashes out at "the Jennifers" for making fun of what she perceives to be a more serious situation than they know.
But after she scolds Michelle for saying mean things about their dad after he punishes her, Jesse gets suspicious and she is forced to tell him what happened to Charles.
Upon learning the situation, Jesse reports the abuse. The next day, he tells her that Child Protective Services had placed Charles in foster care and his father was possibly arrested for child abuse. Stephanie is initially upset by this but Jesse makes her realize that telling was the right thing to do, and that, thanks to her, Charles is somewhere safe where his dad can no longer hurt him.
Community content is available under
CC-BY-SA
unless otherwise noted.