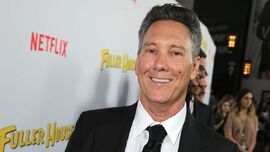 Jeffrey Steven Franklin (born January 21, 1955) is an American producer, screenwriter, director, and songwriter. He is the creator of Full House and its spin-off, Fuller House, as well as other sitcoms. He also co-wrote the lyrics to the theme song, "Everywhere You Look".
Early life
Franklin was raised in Inglewood, California. He worked as a substitute teacher in his hometown before becoming a writer.
Career
Franklin began his television career as a writer and producer for Laverne & Shirley and Bosom Buddies. Franklin pitched his own show to ABC called House of Comics which featured three comics living together. ABC was looking for a family sitcom, so Franklin added children and the idea reportedly evolved into Full House.
After Full House, Franklin created Hangin' with Mr. Cooper. His other TV credits include both writing and production on shows such as, It's Garry Shandling's Show, and Malcolm & Eddie. He also wrote, produced and directed the first Olsen twins movie, To Grandmother's House We Go (1992).
Franklin's most notable film writing credits include the teen comedies Just One of the Guys (1985) and Summer School (1987), starring Mark Harmon.
On April 20, 2015, Netflix announced that its streaming service had picked up the option of 13 episodes of the spin-off series Fuller House. Netflix also announced that Franklin would oversee the production along with Robert L. Boyett and Thomas L. Miller.
In February 2018, Franklin was fired from Fuller House after allegations of inappropriate behavior in the writers' room, which ranged from being verbally abusive to staffers and making sexually charged comments about his personal relationships, although he was not accused of directly sexually harassing or engaging in physical misconduct with any staffers.[1]
Company logo
His company logo began as an in-credit logo at the end of each episode of Full House, designed in the same font as the show's title. It would later be redesigned as a separate logo in 1992 for Hangin' with Mr. Cooper, with Comet looking at a snow globe with the company name inside (also in the Full House font), accompanied with palm trees and Hawaiian music; this logo would also carry over into Fuller House.
References
Community content is available under
CC-BY-SA
unless otherwise noted.