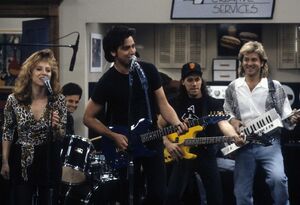 Jesse and the Rippers is a rock band that Jesse Katsopolis formed. The Rippers have been known to perform in clubs (including The Smash Club), covering songs by The Beach Boys, Elvis Presley, and other classic pop/rock artists. In Japan, they are loved and one of their songs reached #1 on their pop chart.
After Jesse is kicked out of the band for his commitment to his family, he is replaced by former Brady Bunch star Barry Williams (and the band is renamed Barry and the Rippers). They achieved a hit song "April Girls", which is loved by everyone in the Tanner household, much to Jesse's chagrin. Jesse later forms a new band called Hot Daddy and the Monkey Puppets. 
Reunion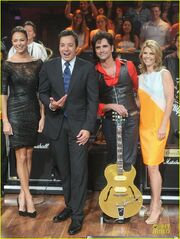 On July 19, 2013, Jesse and the Rippers reunited on Late Night with Jimmy Fallon. They performed a medley of covers including the Beach Boys' song "Forever", Elvis Presley's "Little Sister", Chan Romero's "Hippie Hippie Shake", and ending with the Full House theme "Everywhere You Look". Bob Saget and Lori Loughlin made cameo appearances.

Fuller House
The Rippers made an appearance at the going away party in the premiere episode of the spin-off series Fuller House. As D.J. goes around the room noting all the family and friends that are "leaving," she turns to The Rippers and quips, "I hope you're leaving..."
The guys then play "Forever" and Jesse sings it presumably (and if Jesse has it his way) one last time. They then begin to play "Wild Thing" as Danny sings, but everyone leaves.
Trivia
The name, the "Rippers", likely came from the name of Full House writer and producer, Lenny Ripps.
The song "April Girls," which was attributed in the episode to "Barry and the Rippers", is actually a real song by the San Francisco band Family Pets. It was featured as track 10 on the compilation Live 105: sf.local.bands, released in 1994.