John Phillip Stamos (born August 19, 1963 in Cypress, California) is the actor who plays the role of Jesse Katsopolis on Full House (and occasionally on Fuller House).
Career
John Stamos started his acting career when he portrayed the role of Blackie Parrish on the ABC soap opera, General Hospital in which he received a Daytime Emmy nomination in 1984. He later starred in two short-lived television series, Dreams and You Again?
In 1988, he co-hosted the McDonald's Charity Christmas Parade in Chicago alongside Mark Linn-Baker of Perfect Strangers (which takes place in Chicago) and Janet Davies of WLS-TV.[1]
In 1994, he made a "special appearance" as himself on Step by Step, in the ending credits scene of the episode "Great Expectations", as Carol tries to get Dana and Karen to go on blind dates.[2]
After
Full House
was canceled, Stamos continued acting on television, made-for-TV movies, commercials (including one during the "10-10" long-distance phone number trend in the late '90s)
[3]
, and stage productions. He starred in the short-lived series,
Jake in Progress
and in 2006, he portrayed Dr. Tony Gates on the hit NBC medical drama,
ER
.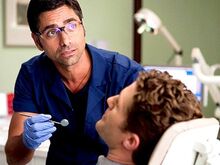 He stayed on the show until the series finale in 2009. He continues to guest-star on television shows such as
Law & Order: SVU
and
Glee
.
In 1996, he replaced Matthew Broderick in the role of J. Pierpont Finch in the musical How to Succeed in Business Without Really Trying.[4][5]
In 2011, Stamos began appearing in a series of commercials for Dannon's Greek yogurt brand, Oikos – including one with his FH co-stars Bob Saget and Dave Coulier (where they think about getting their own places, but eventually decide against it; this all occurs as Stamos is watching a football game, most likely the Super Bowl), another where Stamos is actually Saget in disguise after coming out of a supermarket but the real Stamos is still inside just as he is about to check out, and a third where he is kissing a woman and spills yogurt on his pants – so his co-stars come over to wash his pants, and which causes the woman to leave. All three ads were aired during Super Bowl XLVII in 2013.[6]
In 2015–2016, Stamos starred as the lead character in the Fox sitcom Grandfathered. He also spearheaded the attempt to get a reboot of Full House into production – now named Fuller House, and is an executive producer of the Netflix series.
In 2017, he became a spokesman for Spectrum (formerly Time Warner Cable).
Music
Since 1985 (before Full House), he has performed frequently with the Beach Boys, playing drums, guitar, and occasionally singing along. He appeared in the music video for their song, "Kokomo" (1988). In 1992, John sang lead vocals on their song, "Forever" which he has sung twice on Full House (the first time, during Jesse & Rebecca's wedding; the second time was a recording sung for Jesse's twin sons).
Stamos performed on an independently released 1994 album called Shades of Blue which was released on iTunes in 2010 after being long out of print.
In 2012, John announced that he would be performing with the Beach Boys on their 50th Anniversary Tour.
In 2017, he hosted PBS' A Capitol Fourth. He also performed with the Beach Boys during the program, playing drums on "Do It Again" (new song) and "Help Me, Rhonda", and playing guitar and backup singing on "Surfin' U.S.A.".[7] In 2018, he returned to host and perform with the Beach Boys again – this time with his new wife and baby in the front row.
Personal life
Stamos met model Rebecca Romjin in 1994 at a Victoria's Secret fashion show in which she was modeling and they started dating two months later. On September 19, 1998, John and Rebecca married. They divorced in March 2005.
In February 2018, Stamos married model and actress Caitlin McHugh. In April 2018, Stamos announced the birth of their son, Billy, named after his father.
Trivia
Height: 6' 1"
Because he was the most famous actor in the cast, Stamos is credited as the lead, as shown in the title sequence
His recurring phrase, "Have Mercy", was originally ad-libbed
As a cruel joke, John would eat Doritos and smoke a cigar before the kissing scenes with Becky, just to annoy her
He first met Lori Loughlin at the age of 18 when she was presenting an award to him; he then took her to Disney World
Gallery
See John Stamos/Gallery.
References
External links