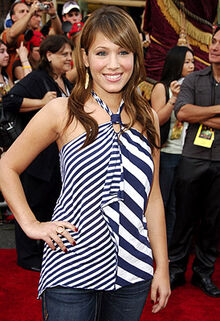 Marla Lynne Sokoloff (born December 19, 1980) is an American actress and musician, known for playing the part of Lucy Hatcher on the show The Practice and Gia Mahan on Full House and Fuller House.
Personal life
Sokoloff was born in San Francisco, California, the daughter of a podiatrist. Her family is Jewish, and originates from Russia and Germany. Sokoloff is an alumna of the Los Angeles County High School for the Arts. In 2004, she began dating composer and Deadsy drummer Alec Puro. On October 19, 2009, Sokoloff and Puro applied for a marriage license at County Clerks office in Van Nuys, California, and were married November 8, 2009.
Acting
In 1993, Sokoloff began acting at the age of twelve, when she was cast as Gia Mahan in the sitcom Full House, who was Stephanie Tanner's arch enemy who later becomes her best friend. In 1998, her breakthrough role came when she was cast in the drama The Practice as Lucy Hatcher, whom she portrayed until the series' end in 2004. Sokoloff also had a three-episode stint as a nanny in Desperate Housewives. Along with other popular appearances, she is well remembered as Joey's pregnant sister Dina in season eight of Friends. She also played Imogene O'Neill in the mini series "Meteor".
In November 2006, she starred in the ABC television series Big Day. The last episode aired on January 30, 2007. Aside from television, Sokoloff has also starred in many movies, including Whatever It Takes, The Climb, The Tollbooth, Dude, Where's My Car?, Sugar & Spice, and Love On The Side.
In 2009, Sokoloff starred alongside Paul Campbell, Andy Griffith, Doris Roberts, and Liz Sheridan in the romantic comedy Play the Game. She also voices the Glatorian Kiina in Bionicle: The Legend Reborn.
Music
Sokoloff enjoys music and has a large guitar collection. She sang and played rhythm guitar in LA-based rock band Smittin until 2003 when she struck out on her own. On February 17, 2006, she released her first solo CD, called Grateful.
Gallery