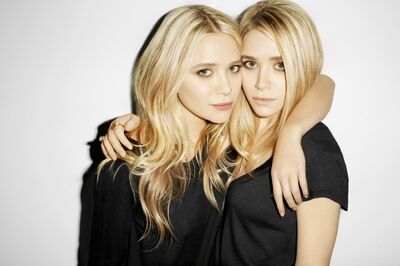 Mary-Kate & Ashley Olsen (born June 13, 1986 in Sherman Oaks, California) are American twin actresses who played Michelle Tanner on Full House. They have both been acting together since they were a year old. Their mom took them out of acting, but soon brought them back because of their popularity.
Acting
In 1987, the twins began their acting career at only nine months old in the role of Michelle. In 1992, they starred in the ABC holiday movie To Grandmother's House We Go, about runaway kids trying to find their way to their grandma's, which aired December 9. It also featured cameos from fellow cast members Bob Saget, Candace Cameron, Lori Loughlin, and Andrea Barber. The following year, they made a Halloween movie titled Double, Double, Toil and Trouble, in which they try to stop a witch and save their aunt.
In 1994, the twins launched a series of musical mystery videos titled The Adventures of Mary-Kate & Ashley, which involve educational mysteries. The videos, in turn, led to a series of books under the same title, and a follow-up series titled The New Adventures of Mary-Kate & Ashley.
In November 1995, six months after Full House ended, the twins made their big-screen debut in It Takes Two, a Parent Trap-type comedy. It also starred Kirstie Alley and Steve Guttenberg.
In 1998, they starred opposite each other in the one-season-long ABC sitcom Two of a Kind, from the producers of Full House, with their characters' first names the same as their real-life first names. A series of books was also launched following the cancellation of the show. To promote the show, the twins guest-starred on an episode of All My Children.[1]
In 2001, they starred opposite each other again in the sitcom So Little Time, which aired on ABC Family (2001) and Fox Family (2001–02) channels. In 2015, Nickelodeon picked up rights to the sitcom and aired the reruns alongside Full House. Also in 2001, they starred in the aptly-titled Mary-Kate and Ashley in Action! animated series (in which both serve as EPs) that was part of the ABC Kids' One Saturday Morning lineup. Similar to their Adventures series, the twins solve mysteries. Unlike other animated action series, the twins are not armed with superpowers.
Gallery
See Mary-Kate & Ashley Olsen/Gallery.
References