Mary-Kate Olsen (born June 13, 1986), along with her twin sister Ashley Olsen, portrayed Michelle Tanner on Full House. They have their own clothing line and are in many movies.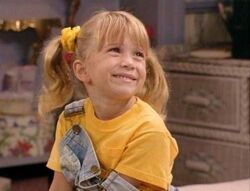 Career
In 1987, at the age of six months, the twins were cast in the role of Michelle. They began filming at nine months of age. In order to comply with child labor laws that set strict limits on how long a child actor may work, the sisters took turns playing the role. The Olsens continued to portray Michelle throughout the show's run. There were a few episodes where the twins appeared together: "The Seven-Month Itch", "Greek Week", "The Devil Made Me Do It", and "Michelle Rides Again".
When the series began, Mary-Kate was the calmer, less fussy baby, and because her sister was crying all the time, Mary-Kate had to play Michelle for most of the scenes in season one. Later, she would play the more tomboyish, athletic side of Michelle. She also generally had the better sense for comedic acting.
In 1998, three years after Full House's cancellation, she played Mary-Kate Burke on the one-season-long ABC sitcom Two of a Kind, from the same producers of Full House.
Personal life
In 2015, she married French banker Olivier Sarkozy, brother of the former French president, Nicolas Sarkozy. In early 2020, she filled for divorce. In January 2021, the divorce was finalized.[1]
Trivia
The Olsens became the youngest self-made millionaires in American history before they were 10 years old
At age 6, they became the youngest producers in history
Height: 4' 11¾" (1.52 m)
She is left-handed, has round ears, and a freckle on her right cheek
Has two horses and has won several horseback-riding prizes with them; rode her first horse during the making of To Grandmother's House We Go (1992)
References