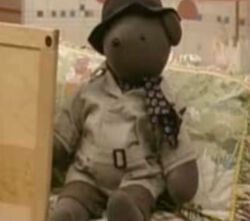 Mr. Bear is Stephanie Tanner's teddy bear. But, unlike most teddy bears, he wears a black hat and a trench coat (like a classic detective).
History
As Stephanie mentions, though only heard twice (season two's "Goodbye Mr. Bear" and season five's "Oh Where, Oh Where Has My Little Girl Gone?"), Mr. Bear "is not a toy. He's a member of the family."
Stephanie got Mr. Bear when her mother came home from the hospital with baby Michelle. This is revealed in "Goodbye Mr. Bear" where she hides him, and Danny decides to show the girls some old home movies. He says, "Pam gave D.J. a charm bracelet, and she gave Stephanie Mr. Bear". Mr. Bear actually makes his debut in "Tanner vs. Gibbler" (season 2) when he is featured as part of Stephanie's "class", as she plays "school" in her and D.J.'s room.
In season three's "Three Men and Another Baby", she gives Michelle Mr. Bear to play with, on the condition that Michelle commits to her "big girl" attitude, but threatens to take him back if Michelle returns to her "baby" attitude. When Michelle does return to her "baby" attitude by getting back into what was her crib, Stephanie makes good on her threat. Both girls fight for control, and Michelle wins and then calls Mr. Bear "Willie" for the time being. Michelle eventually returns him and gets a kiss for it.
Mr. Bear suddenly disappears after Stephanie enters her teen years. He was not mentioned until the season seven episode "The Apartment", which also marked his next-to-last appearance. However, seeing as Danny wanted the stuffed animals raked up as well as Michelle's "Hobby Day" leaves, it seems that she did not completely get rid of him. Proof of that lies in the opening teaser of "Tough Love", when Michelle tries to demonstrate her sock puppet to her sister, as he's seen on Stephanie's bed.
Fuller House
In the Fuller House season three episode "M-M-M-My Ramona", Stephanie was going to give him to Max after Tommy destroyed his unicorn, Uni, but he does not accept the offer because she had so many good times with the toy.
Trivia
Mr. Bear is actually a North American Bear Company Bear from the V.I.B collection. His name is Humphrey Beargart – a tribute to Humphrey Bogart.
Actress Jodie Sweetin still has the original Mr. Bear.
In 2016, Netflix made some "connected" Mr. Bear dolls for the holiday season.[1]
References