The first season of the family sitcom Full House originally aired on ABC from September 22, 1987 to May 6, 1988.
Premise
In the first season, shortly after Danny's wife (Pam) dies, her brother Jesse moves in to help Danny with the girls, along with Joey, Danny's best friend since childhood. Michelle is only a year old, Stephanie is five years old and is in kindergarten, and D.J. is ten years old and is in the fifth grade.
Main Cast
Recurring
Time changes
For this season only, the show experiments with Tuesday airings, alternating with Tuesdays and Fridays, and even airing the show on both days of the week within the same week.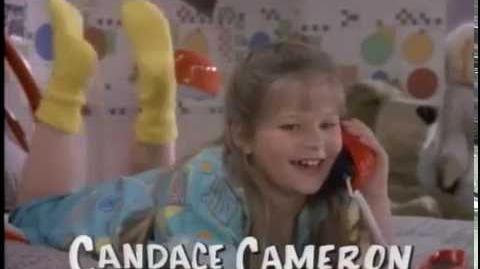 Opening-credits sequence
See also: Opening credits gallery
It starts with a close-up with Michelle in her car seat, then fades to Michelle napping in her car seat with a zoom-out with the family riding on the Golden Gate Bridge in Danny's car "Bullet", followed by a fade to another zoom-out. Then the title logo appears on a wide shot of the bridge, after which it fades. We then cut to the family playing soccer in the park (in reality, this was done at Griffith Park in Los Angeles), with Michelle cheering the family on. Then we are introduced to the cast, with the adults (Stamos, Saget, and Coulier) filmed at the park, with Jesse watching the family while lounging near what appears to be a white wall, Danny playing football, and Joey watching the rest of the family. The girls (Cameron and Sweetin) are filmed on set, with D.J. talking on the phone while lying on her bed and Stephanie practicing her ballet near her bed. Next, we see the welcome sign to Fisherman's Wharf where Danny and the girls head to, along with front and back shots of them fishing. Then, the cast is shown running towards the camera before we see more images that would be seen throughout the series: The girls in the back of Danny's car as they take a ride through Chinatown, Jesse riding his motorcycle, Stephanie practicing her ballet while a stunned Jesse tries to amp his guitar, the guys walking in the park trying to attract ladies there, Stephanie riding in the banana seat of Danny's bike, and Michelle carried from the floor to her high chair as the family prepares for dinner. It ends with fades to zoom-outs to the Tanner house, their entire neighborhood, and then a wide shot of the city (with Jeff Franklin's creator credit cutting in and out).
Closing-credits sequence
The following scenes are seen in the closing credits: a panoramic sweep of the Golden Gate Bridge, the girls fishing with Danny at Fisherman's Wharf, the family riding down the Golden Gate Bridge in Danny's car "Bullet" with Michelle wearing sunglasses (from "The Big Three-O"), Danny playing with Michelle in the kitchen, the guys hanging out, a zoom-in of the Tanner house (as opposed to the zoom-out from the opening) and the family gathering for dinner as Danny carries Michelle from the kitchen floor to her high chair. This is the only season to be produced by Lorimar-Telepictures (which uses the logo featuring two comets smashing into each other to make the logo). In addition, the Olsen twins are credited here as "Mary-Kate and Ashley Fuller Olsen" (the only time Ashley's full name is used).
Syndicated-repeats opening
In addition to using a different version of the opening theme song, this is the only season where the Olsen twins are credited in the opening, using the image of Michelle from the soccer scene that follows the title shot of the Golden Gate Bridge.
Syndicated-repeats closing
Despite this being the only season to be produced by Lorimar-Telepictures, Dave Coulier refers to it as "Lorimar Television" (though uses the L-T logo, complete with comets).
DVD closing
Following the Lorimar-Telepictures logo is the 2001 Warner Bros. Domestic Television Distribution logo (complete with fanfare, taken from the movie logo).
Episodes
The first season consists of 22 episodes.
No. in

series

No. in

season

Title
Director
Writer(s)
Original air date
1
1
"Our Very First Show"
Joel Zwick
Jeff Franklin
September 22, 1987

Three months after Danny Tanner's wife dies from a car wreck, he recruits his brother-in-law, Jesse, and his best friend, Joey, to move in and help raise his three daughters: ten-year-old D.J., five-year-old Stephanie, and baby Michelle. Jesse and Joey's first day as "dads" includes changing a diaper and dealing with D.J. wanting her own room instead of sharing one with Stephanie.

2
2
"Our Very First Night"
Joel Zwick
Jeff Franklin
September 25, 1987
Jesse has to stay with the girls. They lie to Jesse, telling him that they are allowed to stay up late. Jesse has a band rehearsal, so he invites the band over.
3
3
"The First Day of School"
Richard Correll
Lenny Ripps
October 2, 1987

Stephanie is afraid of going to kindergarten, so Danny, Joey, and Jesse join her for her first day of school. Similarly, D.J. is afraid of being in an advanced class and missing her best friend, Kimmy, so Danny helps her overcome her own fears.

4
4
"The Return of Grandma"
Joel Zwick
Russell Marcus
October 9, 1987

When Grandma Tanner visits the Tanner house and sees how messy it is, she invites Joey's and Jesse's mothers to come over as well. The guys' mothers threaten to move in unless the house gets clean.

5
5
"Sea Cruise"
Tom Trbovich
Jeff Franklin, Russell Marcus & Lenny Ripps
October 16, 1987
A male-bonding fishing trip turns into a party cruise.
6
6
"Daddy's Home"
Howard Storm
Joan Brooker & Nancy Eddo
October 30, 1987
Danny is waiting desperately for Michelle to say Da-Da, but when she finally does, it is to Jesse and Joey. Fearing that his long work hours are negatively impacting his relationship with his children, Danny takes the girls on a string of father-daughter outings. Meanwhile, Jesse reluctantly agrees to give Joey lessons on how to be cool. The process turns out to be more strenuous that they expected after Joey borrows Jesse's motorcycle and does not come back until the next day.
7
7
"Knock Yourself Out"
Joel Zwick
Jeff Franklin
November 6, 1987
Danny messes up his tryout as a boxing announcer when he reveals private information about a boxer. Meanwhile, Joey and Jesse are KO'd by a bantamweight: Michelle.
8
8
"Jesse's Girl"
Jeff Franklin
Jeff Franklin & Don Van Atta
November 13, 1987
With a fierce thunderstorm keeping everybody awake at night, the kids are curious to know why Jesse looks ready to attack Joey with a baseball bat. So begins a flashback story from earlier that day, when Jesse's gorgeous guitar student ends up locking lips with Joey. Over the course of this crazy day, Joey ends up re-enacting The Wizard of Oz to entertain Stephanie, and baby Michelle becomes an unexpected mediator in Jesse and Joey's latest spat.
9
9
"The Miracle of Thanksgiving"
Peter Baldwin
Jeff Franklin & Russell Marcus
November 20, 1987
When his first Thanksgiving without his wife Pam arrives, Danny is determined to make the day extra special for his daughters. When Grandma is unable to make it, the men are inspired to make restaurant reservations, but D.J. and Stephanie encourage them to have the traditional festivities at home. The results involve a frozen turkey, a smashed pumpkin pie, and lots of tears, but the biggest challenge of all is with a certain family member who has not yet come to terms with Pam's death.
10
10
"Joey's Place"
Don Barnhart
Story by: Russell MarcusTeleplay by: Jeff Franklin & Lenny Ripps
December 4, 1987
Joey has always been a good sport about living in a tiny alcove in the living room, but he needs to practice and he just cannot seem to find a place except the garage. D.J starts to notice how much Joey needs his own room. Then Joey gets to go on a comedy tour for two weeks, so the family thinks it's a perfect time to get Joey his own place. Since Joey is gone, Jesse has to take care of everything Joey had to. When Joey gets back he discovers that they made him his own room in the garage, which includes his old stuff from his mom's house.
11
11
"The Big Three-O"
Howard Storm
Gene Braunstein & Bob Perlow
December 11, 1987
As his 30th birthday approaches, Danny makes it clear to Jesse and Joey that he hates surprises and does not want a party, but as Jesse, Joey, and the kids plan an extravagant bash, the guys' decision to purchase some new seat covers for Danny's beloved car ends up creating utter disaster and "Bullet" ends up in the San Francisco Bay. Jesse and Joey want to make up for it and buy him a new car that looks just like Bullet, but just as they are about to buy it, Joey and Jesse have to fight an unknown caller to get Danny's car.
12
12
"Our Very First Promo"
Richard Correll
Aurthur Silver & Lenny Ripps

Story by: Russell Arthur & Ron Morgrove

December 18, 1987

The station where Danny works is filming promos showing the members of their news team at home, which means a camera crew will be coming to the house. Everything seems to be in place when a woman named Ronnie shows up at the house for the filming, but Danny is perplexed when her methods of producing spicy television include dressing Jesse up as an English maid, having perfect French girls, replacing sweet baby Michelle with an unknown adopted three-year-old, and completely removing Joey from the picture, so Danny needs to tell Ronnie off and show the viewers the real Tanner family. As all this is going on, Jesse and Joey try hard to locate the source of some strange animal noises in the house, which turns out to be a ferret.

13
13
"Sisterly Love"
Lee Shallat-Chemel
Lenny Ripps
January 8, 1988
D.J. is starting to like acting after being in a play and auditions for a cereal commercial. At her audition, Stephanie comes along and plays with her cereal, and the people there in charge of the auditions watch her and like her instantly calling her adorable and give Stephanie the part instead of D.J., which leads to some sibling rivalry back at home when D.J. accuses Stephanie of stealing her part.
14
14
"Half a Love Story"
Howard Storm
Jeff Franklin & Russell Marcus
January 15, 1988
At the TV station, Jesse meets Danny's co-worker Robin Winslow, who is also an old friend of Danny's, and Jesse uses Michelle's cuteness to get a date with Robin. When Jesse comes home later that day, Robin is also there. Then Jill, another woman Jesse used Michelle's cuteness to get a date with, shows up. This is when things become complicated, because Robin is now reluctant to date Jesse. Robin is willing to bet that Jesse has never had a relationship with a woman last any more than three or four months, because Robin has dated Jesse's type before and ended up hurt by the quick break-up every time, and she doesn't want that to happen again. Jesse and Robin became friends.
15
15
"A Pox in Our House"
Joel Zwick
Lenny Ripps
January 29, 1988
When Stephanie catches the chicken pox, it quickly spreads to Jesse, who thought he already caught it as a child, and Joey, who previously spent his whole life believing that he is actually immune to chicken pox. With an important sportscasting gig where he gets to interview the Golden State Warriors and a baby who should not get chicken pox, Danny really needs a sitter. Just when he is going to give up, D.J. returns home from a slumber party and babysits the girls.
16
16
"But Seriously, Folks"
Joel Zwick
Russell Marcus
February 5, 1988
As D.J. works vigorously at her guitar lessons with Jesse, Joey eagerly preps for an upcoming gig at a local nightclub. The entire family comes out to support him, but with some talent scouts present, Joey faces public humiliation after Phyllis Diller takes over his slot, and hogs the show. As a result, Joey decides to put an end in his comedic career. In the wake of this revelation, he makes an overnight decision to put on a fancy suit, change his name to Joe, and become a serious businessman. Now that he is walking around with a briefcase and calling himself a comic failure, D.J., who has been struggling with her music lessons, follows Joey's lead and quits.
17
17
"Danny's Very First Date"
Joel Zwick
Jeff Franklin
February 12, 1988
Danny develops an instant fondness for Linda, Stephanie's beautiful Honeybee troop leader. When she asks him on a date, the only things standing in his way are his two older daughters, who are not too happy about Danny's decision to date again. Willing to respect his children's feelings over romance, a very disappointed Danny calls the date off, but after having a little chat with Jesse and Joey, the girls confront Danny directly with the truth about their confusion and anger. Meanwhile, Jesse and Joey are trying to put together an indoor playground in the living room for baby Michelle, which she ends up not liking.
18
18
"Just One of the Guys"
Lee Shallat-Chemel
Lenny Ripps
March 4, 1988
When Danny's 17-year-old nephew Steve (Kirk Cameron, Candace's own brother) comes for a visit, D.J. is especially excited about hanging out with him again. Unfortunately, while D.J. absolutely idolizes her older cousin, she is disappointed to find that not only has he grown up a lot in recent years, but instead of ice skating with her like the good old days, he is more interested in doing the typical guy stuff with Danny, Jesse, and Joey. D.J. does not realize that Steve is becoming a young man and likes to do stuff that older guys do which makes D.J. feel jealous. D.J. discovers for the first time that it is never easy to feel left out. However, as the situation worsens, D.J. decides it is time to be one of the guys.
19
19
"The Seven-Month Itch (Part 1)"
Lee Shallat-Chemel
Jeff Franklin
March 11, 1988

The fact that Danny and Joey and the girls are going to Disneyland in Anaheim delights Jesse, who has been waiting to spend a romantic weekend alone with his girlfriend Samantha. But, when Danny, Joey, and the girls return home because the airplane could not take off in fog, it wrecks Jesse's plans. Jesse complains that he has zero privacy in this house. This also affects Stephanie, who wanted to go to Disneyland. The next morning, Danny and Joey discover a note on Jesse's empty bed stating that he has left to be on his own for a while, and does not know when (or if) he will be back.

20
20
"The Seven-Month Itch (Part 2)"
Russ Petranto
Story by: Rob Edwards & Russell MarcusTeleplay by: Lenny Ripps & Kim Weiskopf
March 18, 1988
Waking up to find Jesse gone is a shock for everyone, but things get even messier as Danny and Joey try their best to hide the truth from the kids. After forcing Danny to admit that Jesse is considering moving out, D.J. passes the news along to her younger sisters, and since the adults claim that they cannot do anything about the situation, the girls join forces to get their uncle back home where he belongs. So they call the cabin where Jesse is staying, and tell him that Michelle is coughing and he is the only one able to give her cough medicine. And although Jesse is a pretty tough guy, his little nieces are very familiar with his notorious weak spot.
21
21
"Mad Money"
Jeff Franklin
Rob Edwards
April 29, 1988

Joey's mother Mindy has found an old $5,000 savings bond in her safe deposit box, and the savings bond has Joey's name on it. When Joey receives the money, he starts spending it left and right. At the same time, Danny tries to collect an 11-year-old debt from Joey – which began on March 12, 1977, in Palm Springs – Joey's car broke down yet again, and Danny lent Joey his last $800 (in cash) to get the car fixed, and now that Joey has come into enough money, Danny asks Joey to fork over $800 of it in order to cover the debt, leading to a feud between Danny and Joey. Meanwhile, Jesse is working as an Elvis Presley impersonator in order to make some extra money for himself and the Rippers to record a demo, but he does not want the family to know that he is working as an Elvis impersonator. But they end up finding out and go to one of the shows.

22
22
"D.J. Tanner's Day Off"
Joel Zwick
Michael S. Baser & Kim Weiskopf
May 6, 1988
When D.J. hears that her favorite singer, Stacey Q, will be at a local mall to give out autographs, and knowing that it would mean meeting her in person, she is willing to do anything, no matter what it takes, to make it happen. The problem is that the signings are scheduled to take place during school hours, so D.J. decides to secretly skip a day of school to get the autograph. D.J. gets Jesse to mention how he once secretly and successfully skipped a day from school, and D.J. pulls that same trick on Jesse and Joey. D.J. and Kimmy head to the mall and get in line to get an autograph, but they never expected Joey and Michelle to show up, because they did not know that Joey had made plans to get the autograph for D.J. and surprise her with it after school. Then, D.J. gets busted, and Jesse and Joey must decide how to punish her and block Danny from learning of this so they could show Danny they are responsible, only to have Stephanie blow their cover.