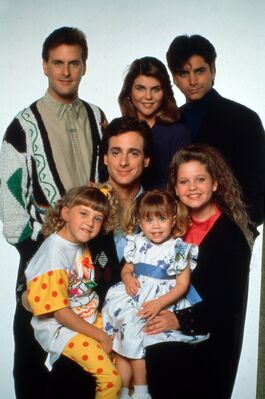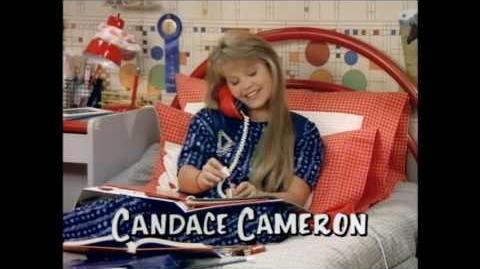 Season three of the Full House originally aired on ABC between September 22, 1989 and May 4, 1990.
Plot
In season three, Danny and Rebecca's talk show takes a spike in popularity, Jesse and Rebecca begin dating while Jesse prepares to leave his rebellious ways in the past, and Joey searches for ways to launch his comedy career. In this season, Michelle turns three years old and is admitted into preschool, Stephanie turns seven and starts second grade, and D.J. turns twelve and begins junior high school.
Characters
This is the first season to feature Rebecca Donaldson as a main character, and in the opening credits (seen hanging the Wake Up, San Francisco sign outside the KFLH studios, with "and" preceding Lori's name).
Recurring
Time change
Starting with this season, the show leads off ABC's new TGIF block, created by Jim Janicek [1]. ("TGIF" was based on "Thank God It's Friday", but ABC said that its abbreviation stood for "Thank Goodness It's Funny".) On occasion, the cast would preview their show, as well as the other shows in the block (in this case, Family Matters, Perfect Strangers, and Just the Ten of Us; for the block's premiere night only, the fourth show was postponed by a special preview of the short-lived comedy Free Spirit), and even sign off for the night. For its first season, it featured a mascot named Friday the Mouse, who always had a knack of destroying clocks (even alarm clocks), as he always found them annoying.
Starting this season and continuing through season five, the show's logo (in yellow) swirls out to the left of the Golden Gate Bridge, using the shot from the title sequence.
Theme song variation
This season only, the theme song alternates between the extended version and an abbreviated version that goes into the chorus after the first two lines. This is not to be confused with the version that is used in syndicated repeats ("You miss your old familiar friends, they're just waiting around the bend").
Opening-credits sequence
See also: Opening credits gallery
This season only, there are four opening sequences, and each one varies depending on theme song (see above) and whether or not Becky is in the episode:
1a: Carrying over from last season, the sequence features a time-lapse of Michelle smiling, and then fades to a zoom-out with Michelle in her car seat with the family riding on the Golden Gate Bridge in Danny's car "Bullet", followed by a fade to another zoom-out. Then the title logo appears on a wide shot of the bridge, after which it fades. We then cut to the family playing soccer in the park (in reality, this was done at Griffith Park in Los Angeles), with Michelle cheering the family on and the girls scoring a goal and giving high-fives. Then the cast is introduced, with the adults (Stamos, Saget, and Coulier) at the park; Jesse watching the family while lounging near a tree, Danny sporting a San Francisco Giants jacket, and Joey watching the rest of the family. The girls (Cameron, Sweetin, & Olsen Twins) are shown on set and are the only ones to get image updates, with D.J. talking on the phone while sitting on her bed and polishing her nails, Stephanie getting ready to depart for school and giving us a thumbs up, and Michelle wearing a tutu and dancing in her room with her new pencil bed in the background. The image of the cast running towards the camera carries over, followed by the family contributing to the supermarket shopping, with new images following: D.J. riding Rocket from ("D.J.'s Very First Horse"), Michelle and Jesse kissing and hugging in her room, Danny dust-busting the vacuum cleaner, the girls in D.J. and Stephanie's room, and combing each other's hair while sitting on Stephanie's bed (Michelle combing a doll's hair, Stephanie combing Michelle's hair, and D.J. combing Stephanie's hair), and Michelle taking a phone call in Joey's room as he and Jesse have a little fun with her. The image of the guys hanging out at the park carries over, and the last image update has a family cookout in the backyard, with Jesse putting a hot dog on Michelle's plate and kissing her as Danny carries her over to the table and the rest of the family joins them. It ends with fades to zoom-outs to the Tanner house, their entire neighborhood, and then a wide shot of the city (with Jeff Franklin's creator credit fading in and out, and is now bottom-aligned).
1b: Same as 1a, except with Becky in the sequence, the image of Danny dust-busting the vacuum cleaner gets knocked out.
2a: In addition to abbreviating the theme song, the sequence is as follows: The supermarket contributions, the cast running towards the camera before being introduced, the guys hanging out at the park, and the family cookout.
2b: Same as 2a, except with Becky in the sequence, the image of the guys hanging out at the park gets knocked out, with Don Van Atta's producer credit shown at the end of the family cookout image.
Closing-credits sequence
Just as the opening sequence changes, so does the closing sequence; only this time there are two changes from the previous one: The Tanner house zoom-in is nixed, and the credits end with the family cookout in the backyard, with Jesse putting a hot dog on Michelle's plate and kissing her as Danny carries her over to the table and the rest of the family joins them. The Lorimar Television logo remains the same. There is also a slight change in the harmony in the closing theme song.
Episodes
Season three consists of 24 episodes.
No. in

series

No. in

season

Title
Director
Writer(s)
Original air date
Prod. Code
45
1
"Tanner's Island"
Bill Foster
Jeff Franklin
September 22, 1989
304
To celebrate the two-year anniversary of the day when Jesse and Joey moved in, Danny surprises the family (and Becky) with a special trip to Hawaii. Everyone is looking forward to soaking up some rays and having a great time, but Danny's pre-planned Clipboard of Fun puts a bit of a damper on things. Joey is determined to connect with a beautiful hula dancer that he meets on the first day, and Becky is not too pleased when her Elvis-obsessed boyfriend behaves like a complete wannabe throughout the vacation. The family friction reaches a new level when everyone gets stranded on an island because they didn't tie the rope right on the boat (Gilligan's Island-style), and with the adults fighting practically every minute of the day, the kids might need to do a little role reversal with the grown-ups. Note: Opening sequence #1b.
46
2
"Back to School Blues"
Bill Foster
Jeff Franklin
September 29, 1989
301
As the new school year begins, 2nd grader Stephanie is nervous about being without her older sister, who is now headed for junior high. Luckily, against Stephanie's expectations, it's a really good day. Unfortunately for D.J., 7th grade causes more than a few problems. Separated from her best friend and forced to eat lunch alone in a telephone booth after she discovers she is dressed like a teacher that everybody hates, she and Kimmy concoct a plan to fit in with the popular girls, but their methods don't exactly fly well with Danny, Joey, and Jesse. Meanwhile, to impress a client, Joey and Jesse dabble in some golf.
47
3
"Breaking Up Is Hard to Do (in 22 Minutes)"
Bill Foster
Jeff Franklin
October 6, 1989
302
After enduring a rough horseback riding excursion with Becky, a frustrated Jesse refuses to participate in any future visits to the stable. Angry that he is not willing to take part in more things that she enjoys, Becky breaks even by skipping Jesse's music rehearsal, and when the two get into a heated argument, it looks like their relationship may be reaching the end. Upon hearing the news of their breakup, D.J. teams up with Stephanie to get the grown-ups back together. Meanwhile, Stephanie is elated when she finally loses her tooth, and after placing it under her pillow for the tooth fairy, she wakes up to a $20 bill on her bed. Also, the guys try to teach Michelle how to share after a bad play date, including with the entire family, each sharing a pancake during breakfast.
48
4
"Nerd for a Day"
Bill Foster
Lenny Ripps
October 13, 1989
309

When Jesse learns that Stephanie has been joining her classmates in making fun of another child, he takes up the responsibility of encouraging his young niece to apologize and change her behavior. She goes along with it to obey her uncle, but when Walter Berman (a.k.a. "Duckface") believes that Stephanie may have romantic feelings for him, she resents Jesse's involvement in the situation-until one little incident teaches Stephanie how much it hurts to be the target of teasing. Meanwhile, D.J. selects Michelle as her subject for a unique school assignment, and Joey temporarily steps in for Becky as Danny's co-host on Wake Up, San Francisco. Note: Lori Loughlin does not appear in this episode.

49
5
"Granny Tanny"
Bill Foster
Dennis Rinsler & Marc Warren
October 20, 1989
310

When Danny's mother (Doris Roberts) arrives for an extended visit, the family realizes that as a divorced woman with independent children, Claire's recent retirement has left her feeling useless. To help her through this difficult time, Danny convinces everyone to act as if they can't function without Grandma. Leaving a few dirty dishes in the sink and allowing Claire to pick out a new bed for Michelle seem relatively harmless, but the little plan backfires when Claire decides that she should move in permanently. Will her precious baby boy have the courage to confront her with the truth about his foolish behavior? Meanwhile, Michelle is initially thrilled about getting out of her crib and having a brand-new "big girl bed," but when she gets scared, Jesse ends up having to sleep with her through the first night. Notes: In this episode, Danny's mother is played by a different actress from "Our Very First Show" and "The Return of Grandma." The role of Claire Tanner was originally played by Alice Hirson. Lori Loughlin does not appear in this episode.

50
6
"Star Search"
Bill Foster
Kim Weiskopf
November 3, 1989
315

After watching a fateful videotape from his college days, Joey is reminded of a little deal he made with himself several years ago: if he didn't become a successful comedian within ten years, he would drop it all and try something new. With his self-implemented deadline just two weeks away, Joey goes full-force with his practicing and, with the loving support of his family, lands a spot on an upcoming episode of Star Search. Joey is up against some of the best talent in the area, but with his own unique abilities, will he manage to endure the pressure and pull off a victory? Special guest star: Ed McMahon (as himself)

51
7
"And They Call It Puppy Love"
Bill Foster
Rob Dames
November 10, 1989
222

It has been obvious for a while that the Tanner family could use a good dog, but when an Ohio-native golden retriever shows up in the backyard, Joey and the kids do their best to hide "Minnie" from Danny and Jesse. The secret is eventually unleashed, of course, but the family faces an even bigger issue when they find out that Minnie is expecting puppies. Meanwhile, Jesse has trouble staying focused on studying for a license renewal, and after Minnie gives birth, her owner arrives to bring them all home-but not before making a special offer to the Tanners. Notes: Lori Loughlin does not appear in this episode. Opening sequence #1a.

52
8
"Divorce Court"
Jeff Franklin
Dennis Rinsler & Marc Warren
November 17, 1989
312

Family discord is not usually in high supply within the Tanner household, but trouble begins when D.J. and Stephanie duke it out over privacy issues in their shared bedroom. Frustrated that her big sister doesn't appreciate her, Stephanie impulsively moves in with little Michelle-a decision that the seven-year-old soon regrets. Of course, the kids aren't the only ones at odds with each other; Danny, Jesse, and Joey go on live air with Wake Up, San Francisco, challenge one another to a footrace, and set out to prove who is the most physically strong.

53
9
"Dr. Dare Rides Again"
Bill Foster
Rob Dames
November 24, 1989
307

When one of Jesse's former buddies drops in unexpectedly, it's a nostalgic trip down memory lane as they reminisce about their reckless days from the past. Initially, it's all in good fun when Pete (Scott Baio) teases Jesse about "going from Dr. Dare to Dr. Seuss", but Jesse – who misses being young and wants to prove that he's still in touch with his old wild spirit – nearly risks everything when he plans to attempt a dangerous motorcycling stunt. Meanwhile, Michelle is not too happy when Comet laps up her ice cream, and when the 3-year-old decides to hold a grudge, will Joey be able to make peace?

54
10
"The Greatest Birthday on Earth"
Bill Foster
Jeff Franklin
December 1, 1989
313

With Michelle's third birthday quickly approaching, the entire family is enthusiastic about planning her circus party-all except for Jesse, that is, who has never been very fond of clowns. D.J. dresses up as a lion trainer, with Comet as her subject, and Stephanie eagerly attempts to improve her juggling skills. Disaster hits when Jesse takes Stephanie and Michelle with him to the gas station on the morning of the big day, and as a sea of three-year-olds show up at the Tanner house expecting entertainment, Jesse must come up with some creative solutions to cheer up the birthday girl.

55
11
"Aftershocks"
Bill Foster
Jeff Franklin & Lenny Ripps
December 8, 1989
321

In the wake of a frightening earthquake, Danny is initially willing to deny Stephanie's excessive clinginess. It all seems relatively harmless to him at first, but Danny finally recognizes the seriousness of the situation when his distraught daughter won't even let him go on a business dinner for a few hours. Unable to get Stephanie to share her feelings with him, Danny reluctantly agrees that this is not something that a dad can handle on his own. Meanwhile, D.J. nervously anticipates her role in a school play.

56
12
"Joey & Stacey and...Oh, Yeah, Jesse"
Bill Foster
Doug McIntyre
December 15, 1989
318

Jesse concocts an idea for a commercial and teams up with Joey to pitch it to their client, but it is soon rejected. When one of the commercial's backup singers notices how Jesse takes charge and shoots down every attempt that Joey makes to offer his input, she encourages Joey to be bolder and make himself heard. Joey soon forms a romantic relationship with Stacy, and her support prompts him to introduce his own commercial idea without consulting Jesse first. Furious when Joey's presentation is lapped up by their client, a jealous Jesse gets into a huge fight with Joey-developments that could stand to destroy their friendship. Back at home, Stephanie is devastated when Comet chews up her beloved Mr. Bear, and by watching her two sisters step in to help repair the damage, Jesse just might be motivated to clean up the mess that he has made. Note: Lori Loughlin does not appear in this episode.

57
13
"No More Mr. Dumb Guy"
Bill Foster
Dennis Rinsler & Marc Warren
January 5, 1990
323
Jesse is invited by Becky to a literature soiree, but he declines, believing that his lack of formal education wouldn't serve him too well among the other guests. Later, when Jesse feels threatened by a handsome and apparently flirtatious former professor of Becky's, he shows up at the event with an attitude that just might destroy his relationship with his girlfriend. Back at the Tanner house, Danny is thrilled when a co-worker graciously accepts his invitation for a dinner date, and D.J. and Stephanie live to regret bringing their little sister into the verbal insult business.
58
14
"Misadventures in Babysitting"
Bill Foster
Shari Scharfer & Julie Strassman
January 12, 1990
306
Eager to have her very own phone line installed in her bedroom, D.J. proposes that she do some babysitting to help pay for it – a plan that Danny is willing to consider. Spending an evening with 8-year-old Brian doesn't seem too difficult at first, but what's a preteen to do when her little charge tries everything he can to get his way and then gets his head stuck between the stairwell railings? Back at the Tanner house, Stephanie experiences her own babysitting woes when she is placed in charge of Michelle, and an innocent card-playing session with some buddies gets Jesse in some hot water with Becky and Danny unsuccessfully being a "guy" for a night.
59
15
"Lust in the Dust"
Tom Rickard
Bobby Fine & Gigi Vorgan
January 26, 1990
317
Stephanie's beautiful young dancing instructor seems like the ideal match for free agent Danny, but because he has a reputation for finding multiple reasons not to put himself out there, his daughters take it upon themselves to arrange a little date at the house. Sure enough, after sparks fly between them at the lunch table, Danny and Karen spend a wonderful day together, but there is just one thing about this girl that may send Danny running as fast as he can. Meanwhile, Jesse is miserably late for an important rehearsal because his keys are missing, and the notoriously sneaky Michelle is branded as the culprit.
60
16
"Bye, Bye Birdie"
Jeff Franklin
Lenny Ripps
February 2, 1990
314
Michelle is too eager to sleep the night before her first day of preschool, and when she finally arrives in the classroom the next morning, her happiness is squashed when she is involved in an unfortunate incident with the class bird. Feeling that nobody likes her, Michelle stubbornly refuses to go back. After Danny makes it clear that this is not a viable option, the adults must devise a plan to ease young Michelle back into the preschool that once excited her. Meanwhile, Stephanie gets herself in some hot water when her latest attempts to read D.J.'s diary backfire miserably. Note: Opening sequence #1b.
61
17
"13 Candles"
Bill Foster
Kim Weiskopf
February 9, 1990
305
When her milestone 13th birthday arrives, D.J. celebrates with a fabulous boy-girl party at the house. The friendly and handsome Kevin Gwynn is in attendance, but when D.J. is too shy to talk to him, Kimmy conspires with the rest of the guests to arrange for Kevin to lock lips with the birthday girl. After the plan backfires, thanks to her eavesdropping father, uncle, and Joey, D.J. is left feeling humiliated. Becky then comforts D.J. in her mother's absence.

Note: Opening sequence #1b.

62
18
"Mr. Egghead"
Bill Foster
Rob Dames
February 16, 1990
316

Joey is anxious to prove himself as the new star of the educational children's show Mr. Egghead, but what he doesn't seem to understand is that the job requires a little more than just liking kids. With Stephanie's second-grade class serving as the audience for a test run show that will determine Joey's eligibility for the position, an experiment goes wrong and leaves Stephanie with a broken nose-the day before she is scheduled to have her Class Picture Day! Meanwhile, while Stephanie laments over the inevitable teasing that she will encounter at school, Danny and D.J. must use all the tricks in the book to appeal a driving ticket that they received while on the road. Notes: Opening sequence #1a. Lori Loughlin does not appear in this episode.

63
19
"Those Better Not Be the Days"
Bill Foster
Dennis Rinsler & Marc Warren
February 23, 1990
320

The girls' recent bouts of greediness are one thing, but when they stop saying "thank you" altogether, a new game is concocted to teach them a lesson. Everyone switches roles for the day, giving D.J. and Stephanie the opportunity to act as "parents" to Danny, Jesse, and Joey. When the plan backfires, the guys nervously imagine their long-term future as the kids' personal slaves.

64
20
"Honey, I Broke the House"
Bill Foster
Kim Weiskopf
March 9, 1990
323
Stephanie climbs into Joey's brand-new "used" car-and ends up crashing it through the kitchen wall. Terrified to face anyone, let alone punishment, she decides that bolting to Mexico might be the best option. Meanwhile, as everyone experiences very different reactions to the kitchen's newest little decoration, Jesse gets a bout of jealousy as Becky plans a date with a smooth-talking football stud.
65
21
"Just Say No Way"
Jeff Franklin
Jeff Franklin
March 30, 1990
213

After weeks of planning and organizing a school dance, D.J. is disappointed to learn that the scheduled band cannot perform. After convincing Jesse to lend his musical talents for the evening, D.J. preps herself for the big event by asking her biggest crush, Kevin Gwynn, to be her escort (with a little unsolicited help from Stephanie). Trouble flares up at the dance when Kevin seems uncomfortable and Jesse meets the questionable backup band that D.J. arranged for him. Jesse is willing to be a good sport at first, but nothing can prevent this former "bad boy" from blowing up when he catches his young niece with a beer in her hand thinking that she was drinking we she really wasn't. She is only 13 years old, but could D.J. really be headed in such a dangerous direction? And can her uncle help her turn her life around before it's too late? Back at home, Joey presents Michelle with a tape recording of the popular children's song "Baby Beluga". Back at the school, Kevin tells Jesse and Danny that D.J. was not drinking, and that it was actually him, Sam, and Paul. She was trying to stop them. Jesse then apologizes to D.J. for falsely accusing her of drinking. Note: Lori Loughlin does not appear in this episode.

66
22
"Three Men and Another Baby"
Bill Foster
Lenny Ripps
April 13, 1990
322
Danny agrees to do some neighbors a favor by babysitting their baby son Tony for the day, but when Danny is too busy working to take care of the child, he asks Jesse to step in and help. Miraculously, Jesse warms up to Tony and starts bonding with him, but little Michelle is not too willing to share the attention of her doting uncle. Afraid that Jesse doesn't love her anymore, the confused three-year-old takes drastic measures to make sure all eyes stay focused on her. Meanwhile, D.J. requests Joey's help in completing a tricky math problem, but when he can't seem to figure it out himself, he resorts to phoning in for some help from a very unlikely source: the Nut Store.

Note: Opening sequence #1b.

67
23
"Fraternity Reunion"
Bill Foster
Tony DiMarco & David Ketchum
April 27, 1990
212

As Danny and Joey prepare for a 10-year reunion with their former college fraternity, they dress for the event. But instead of normal clothes, they dress in pearl earrings, fancy dressings, and-gasp!-even feminine hosiery! Oh, the things a couple of men will do to gain revenge on a sorority that stole their fraternity mascot a decade ago! D.J. and Kimmy watch the news for a school paper but Kimmy changes the channel to the Top 10 Video Countdown. The girls come up with a plan to bring the TV upstairs so they can watch two shows at the same time. Kimmy ends up breaking the Tanners' television and is not allowed to have any contact with D.J. for three weeks. While trying to steal back their fraternity mascot, Danny and Joey wind up in jail, which means D.J. has to come and bail them out. With no one to watch Michelle and Stephanie, D.J. hires a very unlikely source to watch the girls.

Note: Lori Loughlin does not appear in this episode.

68
24
"Our Very First Telethon"
Bill Foster
Shari Scharfer, Julie Strassman & Lenny Ripps
May 4, 1990
324
A special "We Love Our Children" telethon features Danny as the host, and the rest of the family pitches in to make the next 24 hours successful. Jesse and his band perform, Joey exercises his comedy skills, and the adorable Tanner girls capture the heart of the telethon with their singing and dancing. As the monetary donations gradually rise, they hit a snag in the middle of the show when Danny suddenly falls asleep-but will a surprise visit from a certain musical legend push them over the top?
References