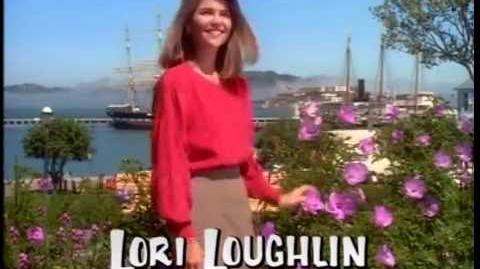 Season five of the sitcom Full House originally aired on ABC from September 17, 1991 to May 12, 1992.
Plot
This season lives up to its name (and the related poker term to boot) when Jesse and Becky have twins! But even with the Tanner household bursting at the seams, Michelle thinks there is room for one more. She wants her kindergarten teacher to marry her daddy! Joey gets a cool new job as Ranger Joe, TV's cartoon host with the most. D.J. learns to drive. Stephanie drives everyone crazy when she competes in a spelling bee. And, Michelle becomes the latest Tanner daughter to join the Honeybees. Michelle turns five years old and starts kindergarten, Stephanie turns nine and starts fourth grade, and D.J. turns fourteen as she starts high school.
Opening-credits Sequence
See also: Opening credits gallery
As was the case last season, the separate close-up of Michelle is discontinued, and we start with the close-up of Michelle from the angle of Bullet (Danny's car), with the image updated to reflect everyone's ages. The soccer scene (from Griffith Park in Los Angeles) is also discontinued, going straight into the opening credits. The introduction to the adult actors (Stamos, Saget, Coulier, and Loughlin) was filmed on location in San Francisco. This sequence was used from seasons four to seven. The girls are introduced on the set, with D.J. typing on her computer in her new room, Stephanie playing with Comet in the kitchen, and Michelle playing Uncle Jesse's drums in the basement (only in the truncated version of the theme song; in the extended version, also as was the case last season, the older girls' credits are preceded by those from seasons 1 and 3, respectively, to reflect their growing up; Michelle's is preceded by seasons 1, 2, and 3). Kimmy Gibbler is also introduced as a main character for the first time and is shown peeking in the Tanner house through the back door, replacing the image of Jesse and Michelle hugging and kissing in her old room. The images of the cast running towards the camera from last season carry over, as do those of the family getting off a Powell & Market Sts. cable car the minute it stops, and ends with the girls' hair-combing scene updated to reflect their ages, then Danny, Jesse, and Joey hanging out at Fisherman's Wharf, and then cuts to the family having a picnic on Alamo Square (all from season 4), which would be seen throughout the remainder of the series (with Jeff Franklin's creator credit fading in and out, and is top-aligned).
Closing-credits Sequence
Same as last season, as some (if not all) of the images are updated to match that of the new opening sequence. As usual, it starts with the panoramic sweep of the Golden Gate Bridge and then goes into the image updates: The image featuring D.J. and Stephanie fishing with Danny at Fisherman's Wharf (from the first three seasons) is now replaced with the family getting off a Powell & Market Sts. cable car when it stops (and is the only one used in the opening with the abbreviated theme, as it cuts to the cast running toward the camera), the zoom-out of the family riding in Danny's car "Bullet" is now replaced with D.J. riding Rocket (from "D.J.'s Very First Horse", and only used in the season three opening with the extended theme, regardless of whether or not Becky is featured), Danny and Michelle napping in a rocking chair in her room (seasons 2–3, but only used in the opening of the season two premiere) is replaced with the guys hanging out (seasons 2–3), and ends with the picnic scene;. In addition, the Lorimar Television logo is now an in-credit logo and cuts out before the fade to black (not applicable to syndicated repeats), and on occasion will use the music from its 1988 logo, and starting with the episode "Play It Again, Jesse" for this season only, gets the "A Time Warner Company" byline. From this point to the end of the run (and applying to all Miller-Boyett shows), R. Robert Rosenbaum's executive in charge of production credit is discontinued, and Lynn Griffin is demoted back to art director (after being promoted to supervising art director last season).
Cast
Personnel change
Dennis Rinsler and Marc Warren, who were producers in seasons two and three, and became supervising producers last season, are promoted again to co-executive producers. In addition, this is the last season to feature Kim Weiskopf, Leslie Ray, and Mark Fink as co-producers.
Time change
Beginning with this season, the show moved from Fridays to Tuesdays for the rest of its run. In addition, Family Matters, which followed on Fridays, moved up to the 8/7C time slot on Fridays, to make room for the new Step by Step (from Miller-Boyett, the same producers as Full House, Family Matters, Perfect Strangers and the recently-axed Going Places). To make way for the move, ABC's Tuesday mainstay "Who's the Boss?" was moved to Saturday nights until its cancellation at the end of the season; following Full House on Tuesday nights was the new Home Improvement (which aired on Tuesdays for just this season, moving to Wednesdays to finish its run).
Episodes
No. in

series

No. in

season

Title
Director
Writer(s)
Original air date
95
1
"Double Trouble"
Joel Zwick
Jeff Franklin
September 17, 1991
When the doctor tells Becky and Jesse about having twins, Jesse gets nervous.
96
2
"Matchmaker Michelle"
Joel Zwick
Ellen Guylas
September 24, 1991
Have I got a girl for you! Michelle thinks her kindergarten teacher should be the next Mrs. Danny Tanner.
97
3
"Take My Sister, Please"
Joel Zwick
Marc Warren & Dennis Rinsler
October 1, 1991
Stephanie beds down in the bathtub when neither D.J. nor Michelle is willing to share a room with her.
98
4
"Oh Where, Oh Where Has My Little Girl Gone?"
Joel Zwick
Mark Fink
October 8, 1991
The big kiss-off. D.J. refuses to pucker up for a boy at school, so he spreads a rumor that she's a lousy kisser.
99
5
"The King and I"
Joel Zwick
David Pollock & Elias Davis
October 15, 1991
A family spat has Jesse all shook up. Then an Elvis lookalike tells him he will check in to Heartbreak Hotel if he does not make it up.
100
6
"The Legend of Ranger Joe"
Joel Zwick
Boyd Hale
October 22, 1991
Howdy-ho, junior rangers! When beloved cartoon host Ranger Roy retires, Joey auditions for his job.
101
7
"The Volunteer"
Joel Zwick
Marc Warren & Dennis Rinsler
October 29, 1991
D.J. strikes up a friendship with an elderly gentleman at the Golden Gate Nursing Home.
102
8
"Gotta Dance"
Joel Zwick
Stacey Hur
November 5, 1991
Stephanie really, really wants extra dance lessons... until she gets them and has no time for family, friends, or fun.
103
9
"Happy Birthday, Babies (Part 1)"
Jeff Franklin
Jeff Franklin
November 12, 1991
Michelle's fifth birthday gets everybody reminiscing.
104
10
"Happy Birthday, Babies (Part 2)"
Joel Zwick
Jeff Franklin
November 12, 1991
Birthday boys for the birthday girl: Jesse and Becky's twins are born on Michelle's birthday.
105
11
"Nicky and/or Alexander"
Joel Zwick
Ellen Guylas
November 19, 1991
Meet my son, What's-His-Name. Proud new Papa Jesse can't tell his twin boys apart.
106
12
"Bachelor of the Month"
Joel Zwick
Tom Burkhard
November 26, 1991
A local magazine names Danny Bachelor of the Month. Too bad his swelled head turns him into Jerk of the Year.
107
13
"Easy Rider"
Joel Zwick
Jeff Schimmel
December 3, 1991
Joey teaches Michelle how to ride a two-wheeler. Danny begins to get intimate with Vicki. Jesse and Becky prepare for the twins' first car trip to the over-kissing Aunt Ida.
108
14
"Sisters in Crime"
Joel Zwick
Boyd Hale
December 17, 1991
D.J. has a hot date with a cool classmate. There's only one, er, two little problems: Stephanie and Michelle tag along.
109
15
"Play It Again, Jesse"
Joel Zwick
Marc Warren & Dennis Rinsler
January 7, 1992
With Becky going back to work, Jesse becomes "Mr. Mom", while also trying to pursue a record deal. Danny deals with Vicki leaving, and Stephanie accidentally stains DJ's sweater, which she had told her not to wear.
110
16
"Crushed"
Joel Zwick
Diana "Jennie" Ayers & Susan Sebastian
January 14, 1992
Heartthrob heartache. Stephanie is crazy for her birthday guest, rocker Tommy Page. But he only has eyes for D.J.
111
17
"Spellbound"
Joel Zwick
Marc Warren & Dennis Rinsler
January 28, 1992
A spelling bee brings out an ultra-competitive streak in Stephanie. Michelle wants to learn how to read.
112
18
"Too Much Monkey Business"
Joel Zwick
David Pollock
February 11, 1992
Jungle love. A chimpanzee named Ginger thinks Jesse is the human of her dreams.
113
19
"The Devil Made Me Do It"
Joel Zwick
Story by: Nicolas Wall & Jane Paris

Teleplay by: Elias Davis

February 18, 1992
Bad Michelle (in biker black) and Good Michelle (in a fairy-princess dress) duke it out when she misbehaves.
114
20
"Driving Miss D.J."
Joel Zwick
Elias Davis
February 25, 1992
D.J. gets her learner's permit. As far as Danny's concerned, that means she is permitted to sit in the backseat while he takes the wheel.
115
21
"Yours, Mine and Ours"
Bill Petty
Stacey Hur
March 3, 1992
Jesse and Rebecca imagine how each other's unique parenting techniques may affect the twins in the future. Danny's cure for a bickering household: a Tanner Family Fun Night out.
116
22
"The Trouble with Danny"
Joel Zwick
Ellen Guylas & David Pollock
March 17, 1992
Danny makes a 180 from his Mr. Clean image. Jesse does not believe Becky when she says the twins are crawling.
117
23
"Five's a Crowd"
Joel Zwick
Ellen Guylas
March 31, 1992
When D.J. and Pete go on a date, they get some uninvited company: Jesse, Danny and Joey.
118
24
"Girls Will Be Boys"
Joel Zwick
Tom Burkhard & Stacey Hur
April 28, 1992
A playmate claims girls have cooties, so Michelle turns herself into a swaggering, shoulder-punching, pint-sized Uncle Jesse.
119
25
"Captain Video (Part 1)"
Joel Zwick
Mark Fink & Boyd Hale
May 5, 1992
B is for bees... and Beach Boys. Michelle joins the Honey Bees. And the rock group gives Jesse's career a boost.
120
26
"Captain Video (Part 2)"
Joel Zwick
Marc Warren & Dennis Rinsler
May 12, 1992
Jesse finally gets a shot at stardom, if he will stop being himself and start being rappin', dancin' Jess Man.