Teddy (portrayed by Tahj Mowry) is a friend of Michelle's.
Appearances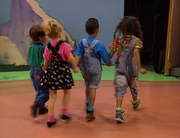 He makes his debut in the season five premiere "Double Trouble" on his and Michelle's first day of kindergarten. Before her start, Joey tells Michelle that the best way to make new friends is by being funny, and Teddy thinks that she is strange after she introduces herself by doing a Bullwinkle impression. He exclaims, "She talks with her hands on her head!" He accompanies her when she needs a "date" to sneak out and join Danny on a date with Vicky in "Bachelor of the Month". He is also the one whose house Michelle runs away to in "The Devil Made Me Do It". He moves to Amarillo, Texas in "The Long Goodbye", but returns when his father's job moves him back to San Francisco. He is the typical best friend a child his age would have, and he and Michelle even consider trying to be boyfriend and girlfriend in third grade in "Dateless in San Francisco". However, they try too hard to copy what Stephanie and her new interest Kenneth do and find that it's no fun for children their age. So, they go back to just being "best friends".
Personality
Teddy is a confident and impatient boy who is never afraid to ask questions or share his thoughts. He often thinks he's right and he has a hard time saying words with the letter "r".
Video