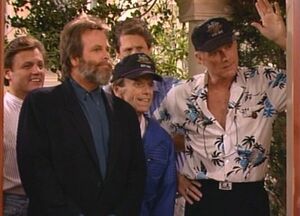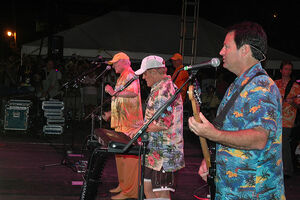 The Beach Boys is a rock music group formed in California in 1961. They soon signed to Capitol Records in 1962. They grew with popularity and fame as they made legendary albums (Including the seminal Pet Sounds and the legendary SMiLE), songs, and more. Many fans loved them. The members of The Beach Boys that appeared on the show were Mike Love, Brian Wilson, Carl Wilson, Bruce Johnston, and Al Jardine (other members were David Marks, Dennis Wilson, Ricky Fataar, and Blondie Chaplin, but didn't appear on the show). The band appeared on the episode "Beach Boy Bingo" and at Jesse and Rebecca's wedding. Also, in "Captain Video (Part 1)", Mike Love and Bruce Johnston (of the group) appear, performing "Forever" with Jesse.
With Stamos
In real life, John Stamos has occasionally played the drums and various percussion instruments in concert with The Beach Boys, dating back to 1985. In 1988, he appeared in their video for "Kokomo", playing both the congas and the steel drums. In 1990, he played drums for them on the title track of the movie, Problem Child. In 1992, he sang lead vocals on a new version of "Forever" for their album, Summer in Paradise. On July 4, 2017, he performed with them along with his duties as host of PBS' A Capitol Fourth and reprised those roles in 2018.
Community content is available under
CC-BY-SA
unless otherwise noted.