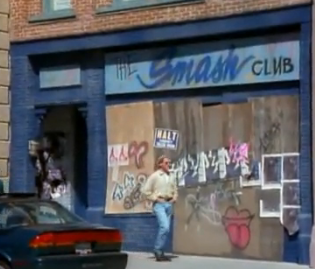 The Smash Club is a nightclub where bands (including Jesse and the Rippers) used to play. The club was owned by the late Buzz Markel. The club was abandoned for two years, and in the process, was covered by graffiti.
According to Markel's will, Jesse Katsopolis was supposed to inherit the Smash Club. Apparently, the Smash Club is very near and dear to Jesse: "Why, the first time I snuck in there to watch, I knew I wanted to play music there, but I was a little too young to achieve that."
In the series premiere, Jesse talks to Danny about his gig there before heading off to Rio and encountering Vanessa, a showgirl.
In the episode "High Anxiety", Jesse makes very difficult decisions about the club, should he inherit it. In the episode "Smash Club: The Next Generation", Jesse finally inherits the club. Later in the episode, he soon learns that reopening the run-down building for a new generation takes more than just good ideas. First, he needs to get a loan from the bank, then he needs to repair the dilapidated building. By the end of the episode, Jesse gets the loan he needs. In "Another Opening, Another No Show", Jesse is overcome by stress when expected to redesign the Smash Club. After a bit of hard work, he completely redesigns the Smash Club, and hires Kimmy Gibbler and D.J. as waitresses. In the end, despite him and Kimmy getting stuck inside, and Michelle and Stephanie both taking her place as co-waitresses, the Club is a complete success. Multiple episodes either mention the Smash Club, or show a scene or two inside it. 
Post-Full House
After Full House, the club closed again (this time for good) and then became a laundromat. In season three of Fuller House, D.J. and the gang celebrated the 30th anniversary of the day that Jesse and Joey moved in by having an '80s party where The Smash Club once was.